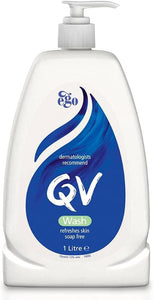 QV Wash is an effective, soap-free wash scientifically formulated for dry or sensitive skin. The lightly foaming cleanser containing 10% Glycerin gently cleanses, without compromising the skin's pH.
Recommended for cleansing dry skin.

Maintains skin's natural protective properties.

Won't strip away natural oils like soap can.

pH balanced, low-irritant formulation, free from fragrance, colour, lanolin and propylene glycol.

Body Wash is suitable for sensitive skin types, including infants and the elderly.
Suitable for sun-damaged skin and conditions such as dermatitis, eczema and psoriasis.
Vegan Friendly - contains no animal derived ingredients.