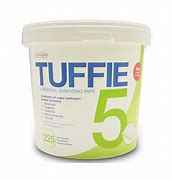 Tuffie 5 cleaning and disinfectant wipes are ideal for the patient care environment where cleanliness and eradication of bacteria is required. Impregnated with a low-level biocide. Wipes are large, strong and easy to use.
The formulation combined with mechanical action when using the wipe aids the removal of organic matter and improves infection prevention and control.
Tuffie 5 wipes are suitable for use on all hard surfaces where cleanliness and eradication of bacteria are required.
Tuffie 5 makes use of a synergistic blend of four active ingredients including Chlorhexidine Digluconate, Polyaminopropyl Biguanide and two Quarternary Ammonium Compounds. These active ingredients work together to give the product its broad spectrum efficacy. Research proves that the effectiveness of individual ingredients are enhanced in combination to produce particular characteristics.
Tub of 225 wipes