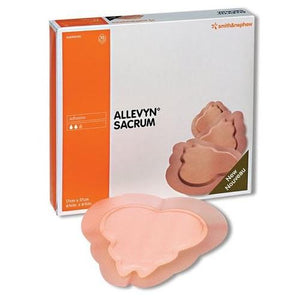 Allevyn Sacrum has been designed for a superior anatomical fit on the sacral area to provide enhanced pressure sore management combined with the proven benefits of Allevyn adhesive. The dressing has been designed following observational ethnographic research with patients and clinicians who have experience of sacral wounds.
The wound contact layer of

 

Allevyn Sacrum is coated with a low allergy adhesive which is designed to adhere well to intact skin, but not to wounds. 
The hydrocellular core of the dressing absorbs and holds liquid in its microscopic structure.
The breathable outer surface of the dressing allows excess moisture to evaporate away from the dressing.
The outer polyurethane layer of Allevyn Sacrum prevents strike-through of excess exudate from the dressing, and minimises the chances of cross-contamination and wound infection. It also allows the amount of fluid in the dressing to be monitored.