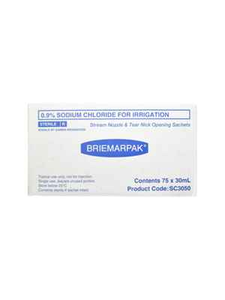 Sodium Chloride Sachets contain a saline solution which helps wound cleansing, as well as irrigation of surgical and traumatic wounds, either on the skin or eyes. It is easy to use, and is also lighter and easier to carry around than a bottle of saline solution. 
Features

Cleanses and irrigates wounds on the skin or eyes
Sterile and self-contained
Isotonic, preventing harming of cells
Easy to carry 
Easy to use
Size: 30ml

It can be used on traumatic and surgical wounds, as well as burns.
Box 75